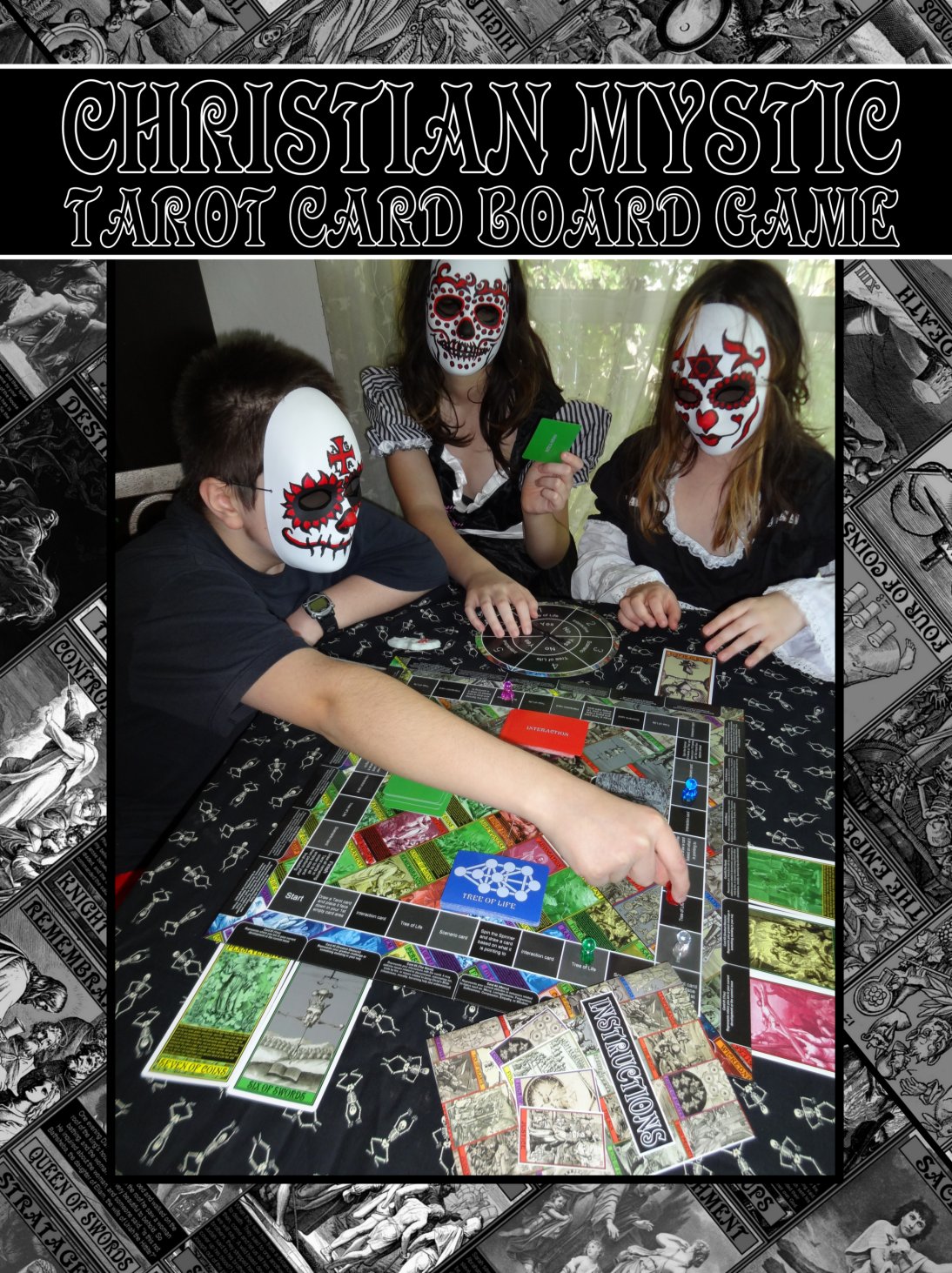 Purchase the Christian Mystic Tarot Card Board Game here
Play the Sample Web Version of the Game here
The Christian Mystic Tarot Card Board Game can be used to augment both the 'Tarot of the Most High' or the 'Christian Mystics Tarot', as a means of practicing tarot card reading and answering Biblical questions. The game teaches you how to read tarot cards, but the objective is not to turn you into an effective fortune-teller. The purpose of this game is for the players to evaluate situations and come up with creative solutions to life's problems – by interpreting imagery and abstract ideas.

This will enhance the player's ability to provide Christian counseling; because if you can produce a Biblical solution by comparing a situation to a randomly selected picture on a card, then you certainly can provide someone with Biblical advice when you are allowed to select the scripture of your choosing. You do not need to work as a Pastor or as a Christian Counselor in order to able these skills, since all Christians are part of a "holy priesthood" (1 Peter 2:9), are told to let their lights shine before others (Matthew 5:16), and will be held accountable for what they do or do not do to assist their fellow man (Matthew 25:40).

This game is meant to make you think outside of the box; it requires you to interpret images and to connect random concepts in order to form them into a coherent story (tarot reading). While playing this game, you will also focus on spiritual concepts and appraise your personal development. As the game is played, tarot cards are constantly being moved from the deck and/or reshuffled, making the final outcome/reading completely randomized. Players are required to think on their feet, interpret images, and must be able to connect abstract ideas and use them to produce a logical reading based on the random placement/selection of cards.

The 'Christian Mystic Tarot Card Board Game' uses Christian based tarot cards to reflect on Biblical concepts in order to contemplate one's current spiritual development; while also exercising one's mind in order to interpret and connect the theoretical dots and produce coherent and sound advice, which will enhance the player's ability to use discernment, think on his/her feet, and problem solve. It is meant for one to four players, and using tarot cards from either the 'Tarot of the Most High' or the 'Christian Mystic's Tarot' is suggested.

This is a game that everyone wins, because it simulates each player's creativity, enhances their problem solving skills, and allows them to learn from and/or apply the advice produced by all players to their own lives or to assist others. It addresses both practical and spiritual matters.
All of the activities in the game are designed to exercise the players' thinking processes, while stimulating conversation among players, and causing them to share their personal experiences or understandings of spiritual matters. This is done to enhance/improve everyone's spiritual development. This is both a lighthearted game that simulates one's cognitive abilities, and it provides an avenue for deep spiritual reflection on one's personal spiritual development and his/her understanding and/or relationship with God.